Increase Sales

Home | About Us | Help | Testimonials | Contact Us

Build a long-term relationship with your existing customers.
Your current customers are an indirect sales force promoting your business to their friends, family and neighbors. If you ignore this important group with your advertising, it will be easier for your competitors to influence them through marketing efforts and switch their loyalties.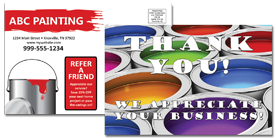 Start by saying Thank You for doing business with you. Have a positive, memorable end to a customer interaction with a Thank You Card or email, if you have the email address. Let your customers know you appreciate them and encourage them to do business again. Don't forget to ask them to refer a friend or provide some positive feedback.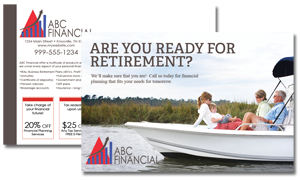 Your existing customers have been loyal to your business. It's a great idea to offer special incentives on products or services to your existing base. Many companies advertise special offers to "New" customers. This can send a message that you appreciate the new customer more than those that have been with you for years. Make sure they are aware of any rebates, incentives, or discounts that may help them save a little money. In the end - you're building customer loyalty>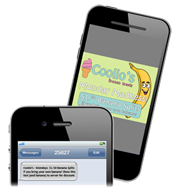 Send a Text Reminder or eCard for an upcoming appointment or event. Did you know that approximately 97% of text messages are read. And over 83% are read within one hour of receiving. Text messages have an average positive response rate of 30%. You MUST have your customers' permission to text them before you can use this form of media. iCreate Local makes it easy for your customers to Opt-In for this service.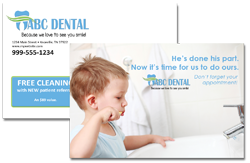 Reminder or Special Occasion Cards are also available. Whether you need to remind a customer about a seasonal service or let them know it's time to schedule an appointment, iCreate Local helps you accomplish the task. iCreate Local will even email a reminder to you when it's time to contact the group again.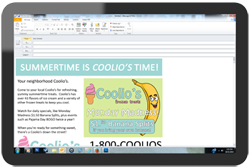 Newsletters
are a great way to communicate with your customers on a semi-regular basis. Let them know about trends, upcoming sales, or just provide helpful hints...maybe even a few recipes. Newsletters provide an opportunity to stay in front of your existing customers in a relaxed format. iCreate Local provides colorful, professional templates, or you can create your own. Choose to mail a newsletter or send an eNewsletter. It's up to you.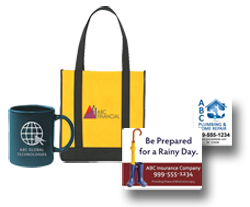 Promotional items, magnets & stickers
leave a lasting impression with your name and contact information. Choose promotional items that will be useful to your customer and are appropriate for your business type. Magnets are beloved by homeowners as they not only provide your contact information but hold their children's precious art and/or papers on display. These items are another way to show your customer how much you value their business.