Increase Sales

Home | About Us | Help | Testimonials | Contact Us

Build a long-term relationship with your existing customers.
Your current customers are an indirect sales force promoting your business to their friends, family and neighbors. If you ignore this important group with your advertising, it will be easier for your competitors to influence them through marketing efforts and switch their loyalties.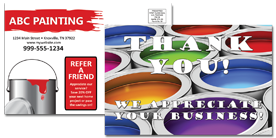 Start by saying Thank You for doing business with you. Have a positive, memorable end to a customer interaction with a Thank You Card or email, if you have the email address. Let your customers know you appreciate them and encourage them to do business again. Don't forget to ask them to refer a friend or provide some positive feedback.

Your existing customers have been loyal to your business. It's a great idea to offer special incentives on products or services to your existing base. Many companies advertise special offers to "New" customers. This can send a message that you appreciate the new customer more than those that have been with you for years. Make sure they are aware of any rebates, incentives, or discounts that may help them save a little money. In the end - you're building customer loyalty>

Reminder or Special Occasion Cards are also available. Whether you need to remind a customer about a seasonal service or let them know it's time to schedule an appointment, iCreate Local helps you accomplish the task. iCreate Local will even email a reminder to you when it's time to contact the group again.



Privacy Policy