Generating New Leads

Home | About Us | Help | Testimonials | Contact Us

iCreate Local gives you the power to market your business in the areas or neighborhoods that make sense for you. Use our
street level mapping
and
custom demographics
to be very selective or start with an address and choose the radius option. You can also create yard signs, door hangers, vehicle decals and more to help increase recognition of your name and brand.

Direct Mail is an effective way to reach a small audience with a tangible piece of mail that contains a special offer or coupon. Don't forget that frequency is vital. The average person needs to see or hear a name a minimum of 7 times to remember it.
Don't mail a small quantity one time and expect a high return. If you are a seasonal business, we recommend you solicit new business during your seasons. Regardless of what type of business you own, new customers must have a need or desire for your product. Solve a problem or make their day a little easier with your offer. Your goal should be to earn an opportunity to do business with this person and then keep them as a long term customer.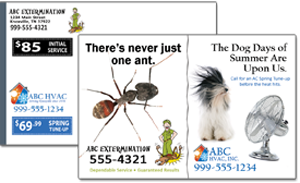 Consider
sharing
a
lead generation card
with a business that has like customers. This saves you money or allows for a larger target audience. The business you choose should share like demographics or location.

Outdoor
yard signs
are an excellent tool to bring awareness to your name and brand, especially if you are doing work in a neighborhood. The average person will drive by your sign several times a day. Yard signs are easy to set up and easy to take down. They are also relatively inexpensive, making it feasible to change the look or message periodically.
Businesses that perform landscaping, lawn maintenance, home security, invisible fencing, or any other home improvement, should ask the homeowner to leave a sign in the yard for approximately one week after you have finished a job. Remember, seeing your name and brand numerous times is critical for name recognition.

Door Hangers provide another effective, low-cost marketing strategy. Door hangers don't get lost in the shuffle or clutter. Place the item on the resident's front door, and they can't miss the offer or the message. Door Hangers also give you complete control over who receives the offer or promotion and when it is delivered.

Portray a positive image for your business with iCreate Local Brochures.

Let potential customers know that you are an expert in your field and that you have the confidence to express it.

Provide potential customers information about you products or services while building confidence and professionalism. Use Brochures to provide details that you want to leave behind with a potential customer. This gives them information about your company and the products you are selling to review later with other decision making partners. Memories are mighty short, Brochures give your company a lasting impression. The ultimate goal - more business
Privacy Policy